How to repair FPC circuit membrane keyboards
---
FPC circuit membrane keyboards are also called flexible circuit keyboards and flexible circuit keyboards. Abbreviated as soft board or FPC, compared to ordinary hard resin circuit keyboards, FPC circuit membrane keyboards have the advantages of high wiring density, light weight, thin thickness, less wiring space restrictions, and high flexibility. We use the maintenance of FPC circuit membrane keyboards to do a detailed description of the maintenance skills of FPC.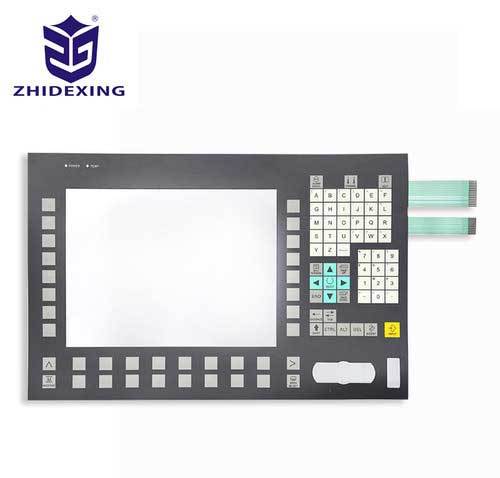 1. Remove the screws and uncover the old bottom of FPC circuit membrane keyboards, revealing a piece of white flexible circuit board, and there is a small green main control circuit board in the upper left corner. It is said that the flexible circuit board FPC of the keyboard is made of polyester film. A total of three layers, the upper and lower layers are printed with silver paste or silver foil, and the middle layer is used for insulation (separating the upper and lower two layers of boards to prevent short circuits. The upper holes can make the two layers of printed circuit boards instantaneous when the keyboard is hit. Short-circuit to input the corresponding character or command.
2. Only a few keys fail, indicating that the FPC circuit membrane keyboards main control board is normal. On the bottom layer of the flexible circuit board of FPC circuit membrane keyboards, the failed keys are distributed on the same circuit. Use the diode buzzer of the multimeter, take the FPC line, and go to the connection pin with the main control board, the multimeter does not ring. After removing the main control board, it was found that this pin had been burnt a few millimeters and it was open.
3. If it is an ordinary PCB board, the circuit breaker is easy to handle, just use a soldering iron to fly a wire. But this is FPC circuit membrane keyboards, plastic film, welding is not feasible. It is said that you can draw a few times on the break with a pencil, but after a short time, it is best to use conductive silver paint to repair FPC circuit membrane keyboards.
Conductive silver paint can make non-solderable points flow smoothly, and is widely used in repairing various FPC circuit membrane keyboards such as desktop and notebook keyboards.
Related news
undefined