The technical principle of China metal dome membrane switch oem
---
The application of China metal dome membrane switch oem has a history of more than 30 years in my country. Now, whether it is intelligent consumer electronic products, general durable household appliances or even children's toys, China metal dome membrane switch oem are widely used. The typical structure of China metal dome membrane switch oem is a multi-layer structure, flat self-locking key switch composed of a certain elastic insulating material and a conductive material layer. Its manufacturing process mostly adopts the method of screen printing. And circuit, the conductive printing material is screen-printed on a flexible polyester (PET) film, and then the screen-printed circuit film is combined with a screen-printed flexible substrate, PCB board or other panel materials. Compared with traditional mechanical switches, China metal dome membrane switch oem have the advantages of simple structure, beautiful appearance, excellent environmental resistance and long service life. At the same time, due to the unique structure of the membrane switch, it is more conducive to the development of the whole electronic machine in the direction of lightness, thinness, shortness, smallness and high intelligence.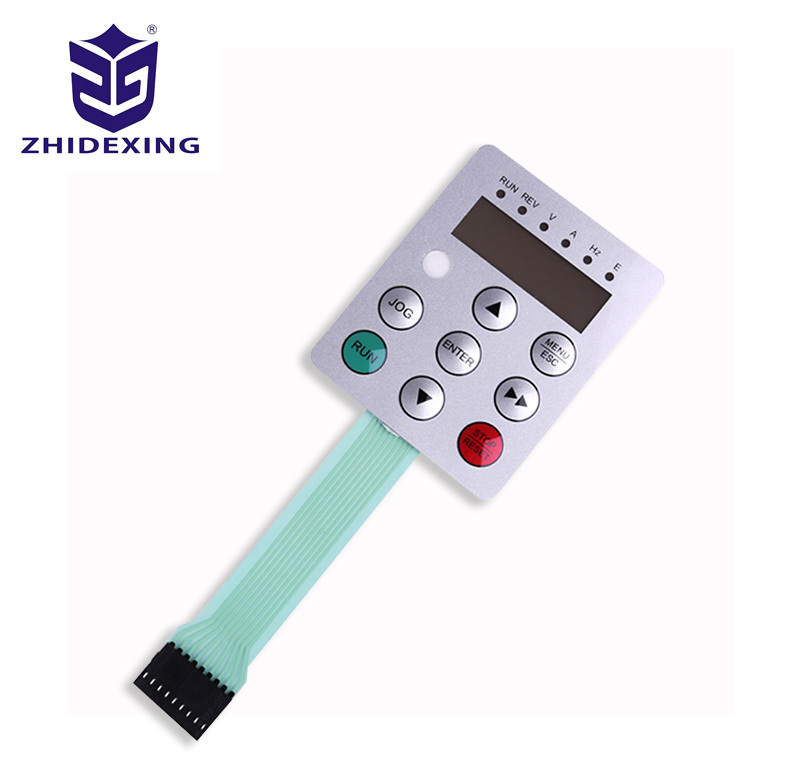 The technical principle of China metal dome membrane switch oem:
China metal dome membrane switch oem is actually a group of point-touch switches, it only bears the role of transmitting operating instructions to the rear circuit of the whole machine. Under normal conditions, due to the gap determined by the thickness of the window isolation layer in the membrane switch, the contacts of the upper and lower circuits are separated (even if it is a single-layer circuit structure, the circuit contacts are separated in a labyrinth manner), when When an external force reaching the response point is applied to a function button on the panel, the two contacts corresponding to the button are instantly closed. The machine works according to the established instructions. When the external force is removed, due to the elasticity of the membrane switch substrate, the contacts are quickly separated and reset. At this time, the input of a signal has been established, and the working state of the whole machine is not affected by the separation of the contacts.